Case Study: A Place for Mom
The Situation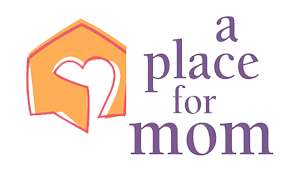 A Place for Mom (APFM) is the nation's largest senior care referral service. Historically, its leads were generated through online media and SEO, but in 2010 APFM increased its lead goals significantly, and utilized television advertising to make up the difference.
Unfortunately, APFM's initial TV campaign failed to deliver the desired impact, and in 2011 the company turned to InterMedia to make its television advertising more impactful.
Step One: The InterMedia Solution
Our first step was to develop a more comprehensive consumer profile via primary and secondary research. This research revealed that the primary eldercare decision-maker is traditionally the daughter (or daughter-in-law) of the person in need of care, and that a high level of investigation and consideration went into selecting the optimal location.
These insights led InterMedia to revise APFM's existing 30-second TV spot. A decision was made to extend the spot to 60 seconds. This provided sufficient time to educate consumers more fully on the eldercare process and to incorporate testimonials into the commercial. These elements served to motivate prospects to action.
National cable was utilized via InterMedia's proprietary CPM Network, which aggregates local cable inventory to deliver reach and frequency on a national basis at costs-per-thousand significantly below market rates. Network selection was based on each station's ability to cost-effectively reach the target demographic, its history as a direct response vehicle, and its rate structure.
The campaign hit the mark right of the gate as both lead volume and quality were greatly enhanced. After just 3 weeks on-air, APFM's cost-per-lead was slashed by 30%, plus the leads converted to sale at a significantly higher rate.
Step Two: InterMedia Entertainment selects a Brand Ambassador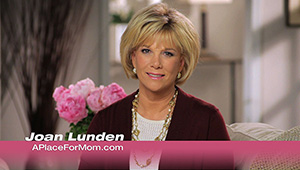 With television now a proven cost-effective lead generator for APFM, InterMedia Entertainment recommended adding a celebrity spokesperson to the campaign. Our research showed that newswoman Joan Lunden connected strongly with APFM's prospect base, so she was selected as the company's Brand Ambassador.
Joan has proven to be a tremendous partner for A Place for Mom. Her heartfelt story regarding her own eldercare search for a family member created instant credibility with the target audience and led to immediate, further increases in response and conversion.
Now in her third year as APFM's spokesperson, Lunden is still going strong, and her value as Brand Ambassador for APFM extends well beyond her DRTV role. Her immersion in the brand has enabled APFM to leverage productive partnership opportunities, and these have contributed strongly to APFM's continued health and growth.