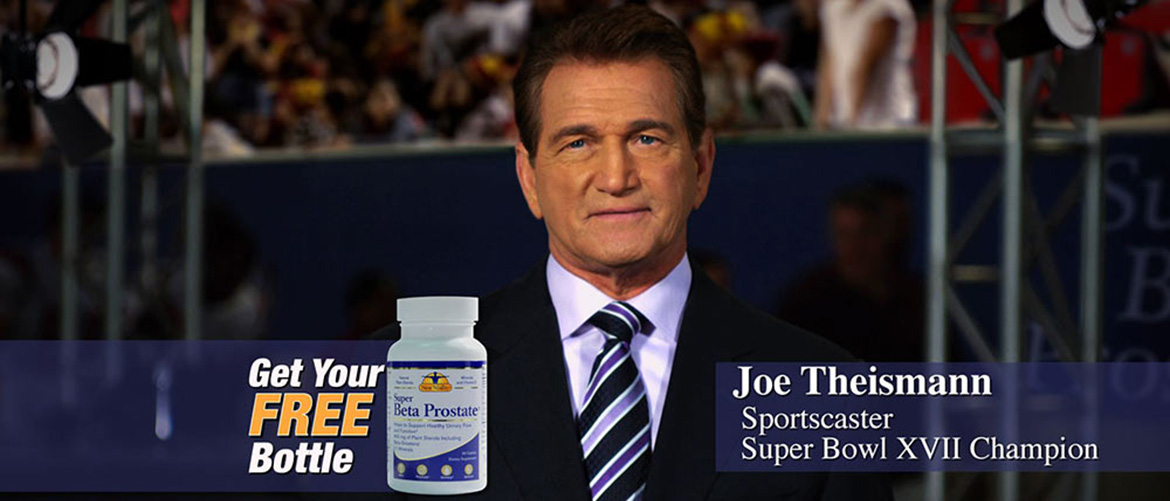 Due to the rise of social media and other innovations in advertising and technology, we live in an age in which brands and celebrities can go beyond basic communication with consumers and fans to engage with them in more substantial ways. And the key to any successful modern marketing campaign is not merely to reach the desired target audience, but also to attain a level of meaningful engagement that aids in customer acquisition.
The direct response marketplace has long focused on advanced customer acquisition metrics, and brand advertisers are now catching up to DR by focusing on measurable, ROI-driven media. A well-executed celebrity endorsement has been a successful strategy in the brand and DR advertising arenas alike; the right spokesperson relationship is proven to enhance brand awareness and affinity, and boost response rates for DR marketers.
A good example is SuperBeta Prostate's relationship with ex-NFL Hall of Fame quarterback Joe Theismann. Before signing him to endorse the product, the company couldn't make DRTV pay. But once the Theismann spots rolled out, SuperBeta increased its DRTV spend and profits exponentially. Additionally, the relationship helped convince multiple retail chains to carry the product, since it proved SuperBeta's commitment to a long-term, viable marketing relationship targeted perfectly to the product's prime prospects.
Borrowed Equity
Advertisers essentially borrow brand equity from celebrities to achieve their goals, but celebs also benefit from successful associations with brands. We have witnessed numerous scenarios in which celebrities enjoy increased recognition, relevance, and prestige due to their association with and exposure from advertising campaigns. Many celebrities likely consider themselves unique brands that can be leveraged for their own benefit, as well as for the brands they endorse.
Increasingly, the goal of many ad campaigns is to transform the brand into a celebrity of sorts. And in a world where celebrities are brands and brands want to maintain celebrity status with the consumer, a perfect marriage between the two can have enormous benefits.
Created as a tool to help advertisers identify the best celebrity candidates for such marriages, the DR Star Index® has so far measured key spokesperson attributes to streamline their selection. Now, InterMedia Entertainment (IME) is taking the Index a step further by incorporating pertinent data points from established consumer research platforms. The enhanced Index will identify and integrate key psychographic attributes of the core supporters of specific celebrities.
By providing insights into the psychographic profiles and media consumption habits of consumers who self-identify as superfans of top-performing celebrities, the DR Star Index will help advertisers select the best celebrity candidates, as well as provide direction for optimizing campaign positioning, messaging, and media strategies on celebrity-driven campaigns.
The enhanced methodology will provide agents, managers, and advertisers with customized, actionable insights by expanding existing consumer profiles. It will detect new patterns of marketplace segmentation and prospects' lifestyle behaviors that advertisers can incorporate into upcoming campaigns to drive response and efficiency. In essence, the DR Star Index will evolve into an instrument that advertisers and talent representatives can use to consummate the most likely-to-succeed marriages between celebrities and brands.
By Robert Yallen and Rob Levy | SOURCE